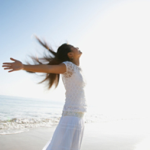 The following article written by David Krueger, MD, CEO of MentorPath®, sets the stage for the coaching relationship, helping clients to make changes that stick, and creating your New Wellness Story®.
How We [Co]Facilitate Change: 12 Principles
1.  Each person's life story is created.
You create whatever you think, feel, and experience at each moment.  Every day is a blank page until you begin writing on it – even though it seems to be "just the way things are."  The first step is taking ownership of your story, including the assumptions that generate default behavior. Read more...