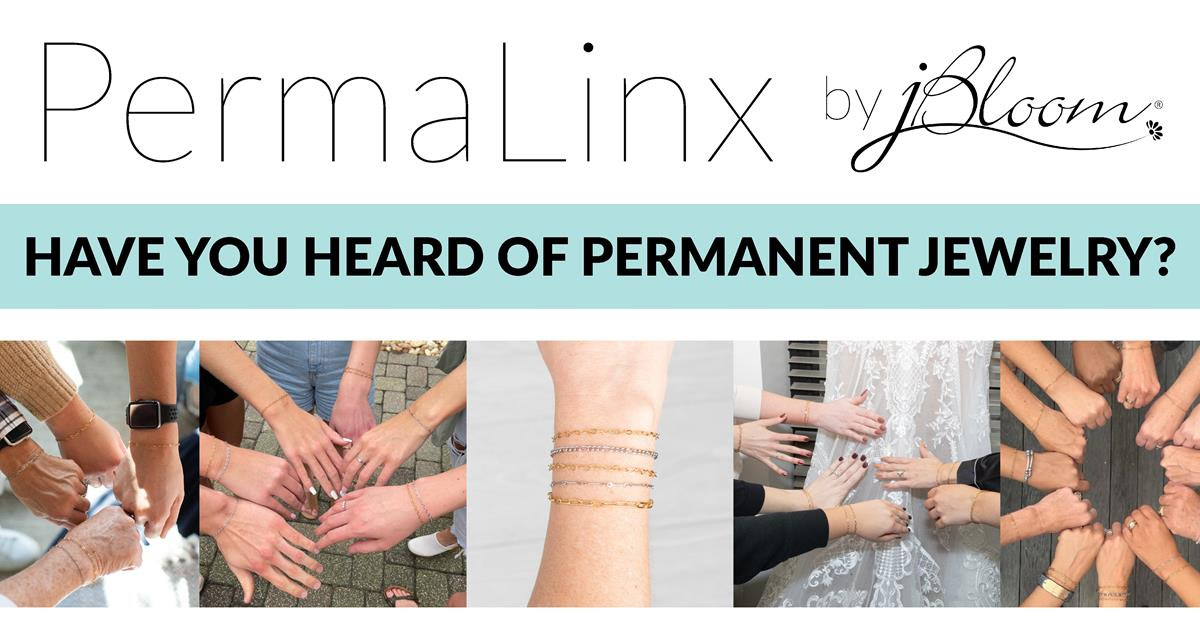 I love to remember my loved ones, special occasions, travel experiences, life events, and so many things with tokens and treasures. How about you?
I've collected things my entire life, and many of those things are still around… somewhere… but could I tell you exactly where?  Hmmm, probably not.  That's one reason why the idea of wearing a "permanent" bracelet intrigued me so much that I decided to offer it to my friends and grief wellness clients.  There have been times when I'd wear a special bracelet, or earring, or ring for literally years without taking it off just to keep the memory or feelings close and in my daily thoughts.  Eventually, they had to be removed for surgical or imaging procedures and they got tucked away in a "very safe place," if you know what I mean.
Is permanent jewelry really any different than that?  Well, yes and no.  Yes, because a bracelet or anklet that doesn't have a clasp is less likely to be taken off and misplaced, or fall off and get lost outside of your home, but… is it actually PERMANENT?  As in forEVER?  No, a permanent bracelet or anklet can be removed, but it depends on where and how it was applied as to whether it can be replaced easily.  Most of the permanent jewelry you'll see on the market needs to be welded closed, and then cut (damaged permanently) to be removed, which means you'd need to purchase a new item to have it replaced.  That's the beauty of the line of jewelry I've discovered.  It can be removed and replaced simply with a new link without being damaged!
Curious now?  
SO, WHAT EXACTLY IS PERMANENT JEWELRY?
Permanent bracelets and anklets are continuous chains without a clasp, made to be worn all the time.
There are several names, variations, and application processes for this hot new trend.
If you can't take it off and put it back on with a clasp, it's considered permanent.
Typical prices range from $60-200 and are mostly only available in gold.
WHY PERMALINX BY JBLOOM?
PermaLinx attaches with a small, secure link to achieve a permanent, seamless look.
Application takes only a few minutes with NO welding required.
PermaLinx offers affordable stainless steel and gold stainless steel options.
PermaLinx has 5 different chain styles to choose from.
Custom-sized to fit your wrist or ankle.
Each PermaLinx bracelet is only $35 and the anklet is only $45, including tax, shipping, and application (must be applied by a jBloom Designer).
WHAT MAKES PERMALINX BY JBLOOM DIFFERENT?
Affordable, high-quality silver stainless steel and gold stainless steel materials that won't tarnish or lose their color.
No welding is needed.
Can be removed and reapplied by your jBloom Designer at no additional charge, such as for medical procedures, etc.
Host a PermaLinx Boutique and earn your bracelet for free with 6 buying guests (or 6 bracelets purchased).

WANT TO HOST A PERMALINX BOUTIQUE?
Gather your friends and family to commemorate a special occasion with matching jewelry, such as a wedding, graduation, new parenthood, or just because.
Guys can (and DO) wear permanent jewelry, too!
Earn free jewelry at your boutique for yourself or as a gift.
WANT TO START YOUR OWN PERMALINX BUSINESS?
Starter Collection is only $175 and includes tools, 5 practice bracelets, and 5 PermaLinx chains to sell.
You can have your entire investment paid back when you sell and apply 5 bracelets!
No need to carry inventory unless you want to, each customer can pre-order and pre-pay for their pieces and then you deliver and apply them in person.
I'd LOVE to answer your questions or get you started with a boutique or home business, contact me here!